Ross Revenge was built in Bremerhaven in 1960 and named Freyr. Three years later she was purchased from her Icelandic owners by the British firm Ross Trawlers Ltd. After re-fitting, the reamed Ross Revenge became the flagship of the Ross fishing fleet and at 68 metres was their largest vessel and brought in record catches to her home port of Grimsby. She took part in the Icelandic Cod Wars but when Britain capitulated in this dispute, due to sharing fishing grounds with members of the Common Market, the UK fishing industry collapsed. By 1980 she was in Cairnyan which was a scrapping port. But Ross Revenge was purchased by Radio Caroline and taken to Spain to be outfitted with broadcasting equipment and a tall aerial tower.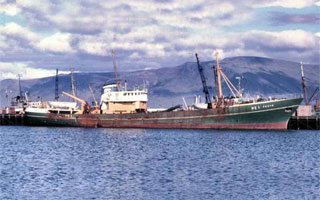 Thus from 1983 she was the base for Radio Caroline, spending eight years continuously at sea in International Waters. After surviving the 1987 hurricane she was shipwrecked on the Goodwin Sands in 1991, one of the very few ships to survive going aground in that location. She was brought in to Dover in a damaged and derelict condition and was impounded there. Radio Caroline had no further interest in the ship and no owner came forward. To avoid the ship being claimed by the salvors and scrapped, an informal group was founded called Ross Revenge Support Group. They paid the salvage, took the ship in to their care and started to repair the defects. By 1993 she was in sufficiently good order to leave Dover under tow.
An associated volunteer group sought to revive the broadcast activities of Radio Caroline and registered the trade mark to protect it from unauthorised use.
Ross Revenge visited Bradwell, Clacton, Southend and London to be on display and also at various locations on the River Medway. In 2004 she went in to Tilbury Port to be alongside a wharf. Due to changes in maritime regulations she had to be substantially upgraded to be fit to leave Tilbury in 2014, returning to Bradwell where many more improvements were specified to make her fit to board the public.
Guided tours are now offered where guides describe the fishing and radio history of the ship, both during the monthly live broadcasts and when there is no broadcast. To date more than 2,000 visitors have toured the ship.
Of the Ross fleet only she and the landlocked smaller ship Ross Tiger still exist. In terms of another distant water trawler of her size, only the Arctic Corsair still exists and she is also about to go on permanent static display. Ross Revenge is still afloat, fully operational as radio station and capable of being towed to various locations. She is also the last pirate radio ship left in the world.
1991: The end of the offshore radio era
When Ross Revenge entered the UK, the authorities at once impounded her and would have done so, even if she was in perfect condition. Various Governments had since 1967 wished to stop Radio Caroline from broadcasting and now they had their opportunity. With the ship being a liability rather than an asset, nobody was keen to take responsibility for her.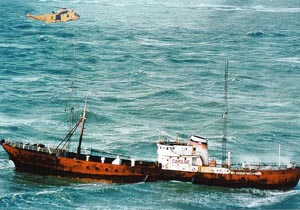 In order to prevent the ship being scrapped, an informal club, 'Ross Revenge Support Group', was formed consisting of ship and radio enthusiasts and while they had at the time no long-term plan, they raised and paid the £20,000 salvage fee and the ship was handed in to their care, where they found that she was in a dreadful condition with most of her systems and machinery having been run to destruction.
A team decided to give their time free to see what could be repaired while others pledged £5 a month to provide some sort of repair budget. One man was found, Ernest Stevenson, who had been the ship's chief engineer in her fishing days and he was able to direct the work, even though the other workers had little marine experience. Some tasks were minor, such as putting light bulbs in empty sockets once electrical power had been restored. Some requirements were major such as sourcing new anchors and chain to replace those that were cut away and left on the Goodwin Sands, where Ross Revenge was grounded in 1991 after her anchor failed during a storm.
By 1993 the main engine had been run again. The ship was then fit to leave Dover under tow but owed £11,000 in mooring fees. The volunteers offered to clear this debt in instalments and did so. Thereafter she visited Bradwell, Clacton, Southend and London when the Marine & Coastguard Agency stated that they would only authorise further voyages if the ship was dry docked. This was carried out at the Ailsa Perth yard at Chatham, but the budget available only ran to a pressure wash and basic re-paint, fresh anodes and an overhaul of all the sea valves. The topsides of the ship and the superstructure have been repainted several times now but the hull below water has had no attention since 1995.
Around this time the volunteers split in to two teams with one concentrating on the fabric of the ship and the other seeking means to enable Radio Caroline broadcasts and to restore the broadcast studios. While working in tandem, they kept their finances separate so that the failure of one team would not bring down the other. But both teams have remained in funds to the present day. From 1995 to 2004, progress slowed as the ship was on a mid-river mooring with limited means to load and remove machinery, but in 2004 a new volunteer, Mike Weston from Newark, started to offer Radio Caroline and Ross Revenge merchandise and memorabilia to fund restoration and obtained a grant with which to make a commemorative broadcast from Tilbury.
Thereafter the ship went to a disused side dock within the port. With good access and an enhanced budget, many improvements were made such as secondary lighting, fire detection and fire-fighting equipment, new galley and first aid room, removal and renewal of four worn-out diesel generators and refurbishment of the cabins and communal areas. One volunteer, David Lockyear, paid £6,500 for a crane to take down the existing masts and replace them with a new one which had been gifted to Radio Caroline by Radio Structures.
By 2014, Tilbury Port, which had allowed much work to take place even though the dock fees were only for storage of the ship, had decided that Ross Revenge ought to depart. With the passage of time many new regulations were in force and a surveyor provided a list of tasks, some major, to be made before the insurers would cover the impending tow. The cost of all works and requirements for the ship to travel from Tilbury to Bradwell used most of the reserve budget of £30,000.
At this time it was also decided to settle the matter of ownership, as while no approaches had been made between 1991 to 2014 there was a possibility that someone with a legitimate claim to the ship might appear. Messrs Andrew Jackson, marine lawyers were hired and over three years they researched the matter knowing that with Radio Caroline having been a clandestine operation, everything had deliberately been cloaked in mystery. It was eventually shown that no trace now existed of the overseas organisations that may once have owned and operated the ship at sea, while the present volunteers had expended around £400,000 in the last 26 years. At the Admiralty Court, sitting at the Royal Courts of Justice, it was ruled that the vessel had truly been abandoned and ownership was awarded to one Peter Moore, who had overseen both the ship and radio station activities, again as a volunteer, since 1991.
In order to make the ship fit to board the public and be additionally insured for that purpose, the previous surveyor was asked to return and specify further items and improvements required. These having been carried out, public visits commenced in October 2016 and to date more than 2,000 people have visited the ship and be given guided tours. The present situation is that in due course Ross Revenge must be dry docked for substantial works. Messrs Dunstons Shipyard have been asked to quote for this.
To clarify the term 'volunteers', with the passage of time some have become too old to continue or have passed away. Sadly, this is the case with Mr Stevenson. But as members stand down fresh volunteers appear. With merchandising and donations, their budget stands again at about £30,000, though this is thought to be less than 10% of the expected shipyard bill. Any award that may be granted would be used to found a specific ship repair fund which would be built up by further merchandising and donations, crowd funding and applications to various funding agencies such as the National Lottery.
---