Ronan O'Rahilly is the founder of Radio Caroline and is still the spiritual leader. From 1964 and for thirty years thereafter he steered the station through endless dramas, achieving the near impossible and pulling so many rabbits out of so many hats that it was assumed he would always be able to do so.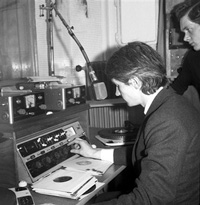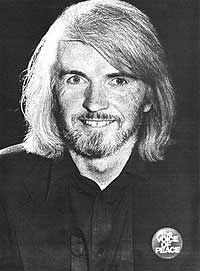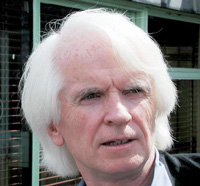 Certainly in his younger days he was adept at multitasking dabbling in artist and club management, a "Method" school of acting and a hospital of alternative medicine. Movie making had been his early passion with a hand in a 1971 film Universal Soldier of which no trace now seems to exist. He also made the film Gold which had no discernible plot and also Girl On A Motorcycle which managed to attain a cult status. He was considered as a possible manager for the Beatles after the death of Brian Epstein.
But Caroline Homes, a scheme for mass produced modular instant housing did not get past prototype stage, while his promotion of an engine that ran on water (it actually did not) and his anti-gravity space ship veered, towards the surreal.
Those close to him now say that the disasters of the eighties, collapse of the magnificent 300ft mast on the Ross Revenge, the armed raid at sea in 1989 and the shipwreck of '91 put on him an intolerable physical and mental strain from which he never truly recovered. This was compounded by a long and ultimately futile court case against the British government for having raided his ship and desperate attempts to obtain an overseas broadcast licence.
By now being 'all out of rabbits' he still encouraged others to to rebuild what could be rebuilt in both the Caroline broadcasts and the ship. He shunned conventional medicine and relied greatly in spiritual guidance.
Being in any case such an unusual man, it was not at first noticed that his behaviour was going beyond what was normal even for Ronan but in due course he was diagnosed with Vascular Dementia. He decided to leave Chelsea, his long term base, to return to Southern Ireland and Caroline was pleased to assist this move.
In departing the UK, all the possessions accumulated during his life were left behind. Again Caroline was pleased to fund the storage of these items and to then move them to a new location of our own.
It is hoped that some of the most treasured items can be sent to Carlingford in Ireland where he lives in sheltered accomodation, cared for by his partner Ines. He still listens to his station where possible and sometimes makes contact via Ines with requests for music, notably Ray Charles.
Peter Moore – May 2017