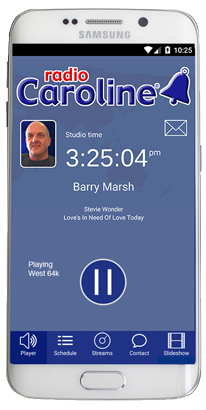 Version 3.1.2
This version includes a new Slideshow page, a new Contact page and the ability to auto-stop the player for an incoming phone call (see below for an important note on this).
Other features include a 'Now Playing' feature so you can see details of the current track, a number of stream bitrates to suit most situations, full programme schedule with programme 'alarms' — never miss a show again!
And for special broadcasts from our radio-ship Ross Revenge we can automatically add or remove a dedicated 'Caroline North' stream.
This version also helps to overcome the Android operating system's 'Doze' battery saving feature which can restrict internet access to apps after a while when the lock screen is on – even those playing or streaming audio.
Compatibility: Any version of Android 4.1+ (Jelly Bean or above). It will not run on any Android versions lower than 4.1, which are now obsolete. And it won't run on a device whose processor is based on the x86 instruction set.
Important:
In order to monitor for incoming phone calls and stop the player we have had to include Android's READ_PHONE_STATE permission which forces a user to agree to allow the app to 'make and manage phone calls'.
We can't change the text although we do not 'make' nor 'manage' calls, simply monitor for an incoming call in order to stop the player. But if you are at all worried then don't agree to the permission, which will just mean you continuing to stop the player manually.

24k, 32k, 64k, 128k mp3 streams
Programme Schedule
'Now Playing'
Programme 'alarms' (not US version)
Presenter profiles
Auto restart
'Contact' page
Send emails
Slideshow
Temporary 'Special broadcasts' channel
Frequently asked questions and Issues
I bought this app from you some time ago, not Google Play. Do I have to buy it again?

The final upgrade served from here was the 3.0.5 (UK version) which was available free for several months up until July 2017 for those who'd previously bought it. We then move it to the Google Play Store where unfortunately there is no way to freely gift an app for previous customers. The upgrade was also significant, so asking another £1.99 isn't too much we hope.

Can I transfer the app to a new phone/device or do I have to buy it again?

You can transfer between devices without re-buying the app, but only if you bought the app from Google Play.

What devices can I install on?

Any Android device that Google Play will allow you to install on. Although our screen layout is most suited to handheld and medium sized tablets rather than anything larger.