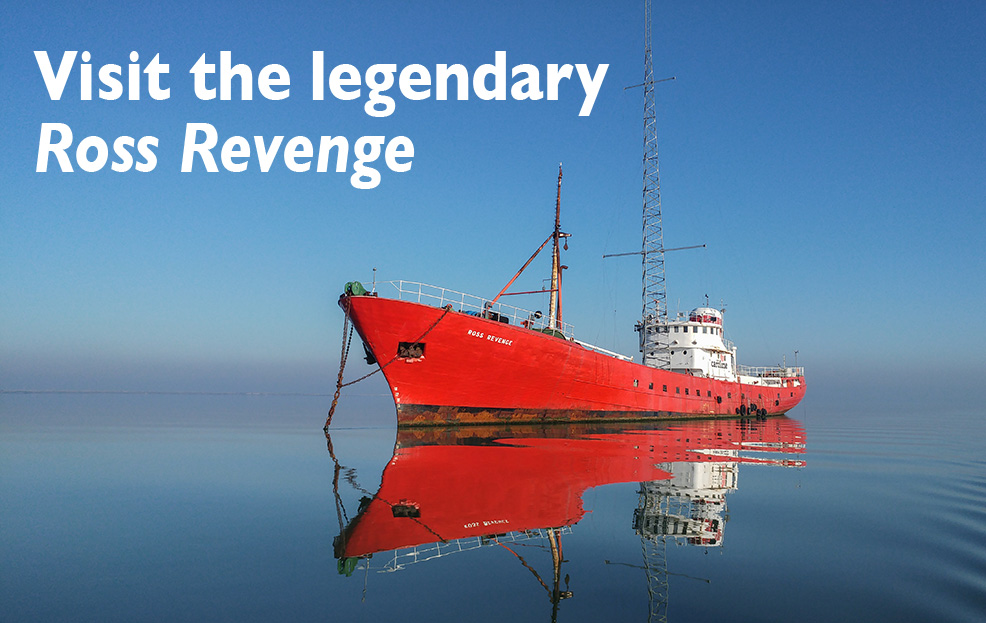 Our former pirate radio ship Ross Revenge is moored on River Blackwater in Essex. One weekend each month DJs stay on board and broadcast Radio Caroline North live from the studios. We run trips to visit and tour Ross Revenge during these weekends and also when there is no broadcast. Come out and see us – we'd love to show you round!
Our Trips
Visitors are taken out to Ross Revenge from West Mersea, Essex on our tender Razorbill 3. The boat is fully licensed and insured with a fully qualified skipper.
We offer two types of trips, those during a live Radio Caroline North broadcast from the ship and those when there is no broadcast. Both tours of the ship last approx one-and-a-half hours and the journey time between West Mersea and the ship is approx 20 mins.
Radio Caroline North live broadcast trips
The ship is broadcasting and the DJs are resident on board. Visitors are split into two groups and the tours are led by two of the weekend's resident DJs, some of whom served at sea during the pirate radio days. The tour covers the whole ship, with the exception of the cabins, and includes a visit to the main studio while the on-air presenter is broadcasting.
Non-broadcast trips
The tour of the ship is the same as during a live broadcast, but the studios are not live. You will find out something of the history of Ross Revenge as a record-breaking fishing trawler and be able to visit the crew cabins.
Reductions are available for contributing members of the Radio Caroline Support Group. See below for details of how to book a trip.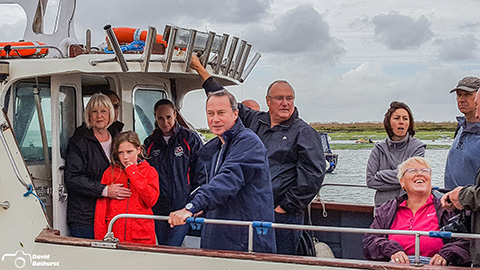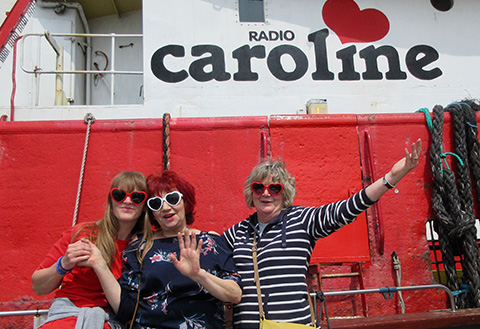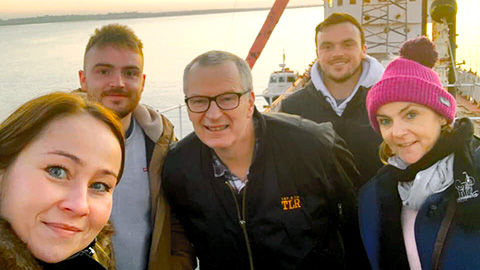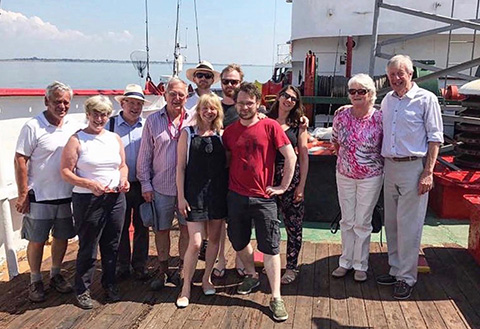 We are delighted that our trips to visit and tour Ross Revenge have been awarded a Travellers' Choice 2022 Award by Tripadvisor. A Travellers' Choice award is given to accommodations, attractions and restaurants that consistently earn great reviews from travellers and are ranked within the top 10% of properties on Tripadvisor.
Covid-19 precautions
This information is subject to change depending on Government advice at the time of your trip.
If you are visiting Ross Revenge during the next few months, please be aware of the following information which will enable us to comply with Government Covid-19 instructions and keep you and the crew safe in these difficult times.
1. Please do not come on your trip if you have any symptoms of Covid or you have tested positive for Covid within the ten days before your trip.
2. We have been unable to provide refreshments in the mess room on arrival during restrictions and visitors over this period have had that time added to their tours. The feedback was that visitors would prefer to forgo refreshments and have a slightly longer tour. We will therefore continue with this arrangement. You may wish to bring a non-alcoholic drink with you.
---
How to Book Your Trip
Call Paula Shaw on 07564 228546 [Please note new number], 9am – 5pm, Monday – Saturday, or email  boattrips@radiocaroline.co.uk to check availability on your chosen trip. Once you have reserved your places you will be directed to our web shop to confirm your booking with an online payment or asked for your voucher numbers.
Your booking confirmation and full details will be sent to you within one working day of your payment. Don't forget to check your spam folder! The cost is £30 per person.
We reserve the right to cancel trips in the event of adverse weather conditions or technical problems. In such cases a full refund, a voucher or alternative date will be offered. Departure times may occasionally be adjusted nearer the time of your trip in the case of a very low tide forecast.

The Ross Revenge is a former fishing trawler and visitors should therefore be reasonably able-bodied. Unfortunately, this trip is not suitable for anyone who is partially sighted for safety reasons.  Please wear clothing appropriate for the weather and sensible footwear with grip (not sandals and definitely not flip flops). Safety briefings will be provided on Razorbill 3 during the trip out to the Ross.

Minimum age eight years. Children under 18 must be accompanied by an adult and are the responsibility of that adult.
---
Booking Dates for 2022
(*LB = Live broadcast weekend)