AM Licence ‐ A Kilowatt On 648
On 17th May 2017 Ofcom informed us that our application for an AM licence had been approved and that a licence will be awarded.
This is the end of – or a further step in – a process started by Bob Lawrence in 2010 and enthusiastically supported by Tracey Crouch MP. We thank them both and further thank the many other people who have helped along the way.
The basis of our application was that our traditional heartland was Essex and Suffolk, where the signal from our ships made first landfall and that we wished to entertain on AM, an audience that we have not been able to serve in this way since 1990.
We said that this audience may hear music radio of a style they remember and in some cases presented by the same people they remember.
That in essence is what we intend to do.
July 2017: We announced that our AM frequency will be 648 kHz with a power of 1000 watts. This is ERP or simply the power radiated by the aerial.
A transmitter was imported from the Continent and modified to suit the frequency. There were further hurdles, but progress was made and tests started on Sunday 12th November.
November 2017: After the award of our AM licence we were kindly offered a transmission site at Stonham Aspel, Suffolk and at a very sympathetic cost. But the site had no facilities, requiring us to install a mast, transmitter building, power and Internet.
We then identified a coastal site where everything was in place including a mast already tuned for 648 and this is the location we chose.
A commissioning test proved that all was operating to the satisfaction of Ofcom and after some days of silence we are now testing full time to ensure that the equipment is reliable. Then we will proceed to normal programmes.
Thanks must go to the site owners and the clever Techies who made it all work.
December 2017: At 12 noon on 22nd December our 648 service officially launches during a ten hour special from our radio-ship Ross Revenge. It's only taken 53 years to get a fulltime legal AM channel!
It was in 2010 that Bob Lawrence suggested to the regulator Ofcom that as radio stations in the UK now showed little interest in their AM services, no huge harm could be done by giving Caroline a frequency to use.
He was told that there was no procedure by which this could be done and that in any case there were no spare frequencies and no intention to licence any more commercial AM.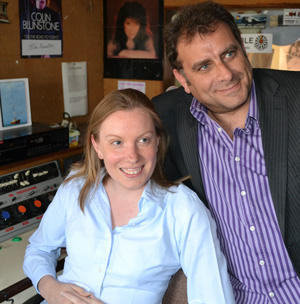 Tracey Crouch MP with Bob Lawrence
All the same, Bob mounted a lively campaign, greatly assisted by Tracey Crouch MP (now a junior Minister) who had a father who had been a DJ and Caroline enthusiast and who tended to find partners who worked in broadcasting. Her Early Day Motion in Parliament produced much support, but of course we will never know if this caused a gradual change of attitude with Ofcom or not.
In any event, Ofcom then suggested that they may licence Community AM, but the date to invite applications slipped back year after year. Expressions of interest were finally requested and Radio Caroline applied for the Essex/Suffok region by October 2016, being the only applicant in the area to do so.
Peter Moore – November 2017