Radio Caroline on 648 AM
Radio Caroline returned to the medium waveband on 648 kHz AM as a legal broadcaster at the end of 2017, after applying for, and being granted, the Ofcom licence for the Essex and Suffolk areas of South Eastern England.
In July, 2021, Ofcom extended our licenced areas to parts of Kent and East Sussex, and increased our licenced ERP (Effective Radiated Power) to 4 Kilowatts.
You can hear us strongly in those areas, with the signal dropping off gradually further afield. Those with good radios or specialist receivers can hear us at considerable distances from our transmitter, including The Netherlands, Belgium and Northern France, depending on local conditions and other factors.
Getting this far was a long process, as you can read in the sections below, but it has given the station a tremendous boost and helped prove that, despite the current pan-government trend of dropping AM in favour of DAB, there is still sufficient interest in old fashioned 'steam radio' – and indeed people with radio sets that can receive it.
Transmitter power and location
In the 'watery wireless' days, Radio Caroline, and other offshore radio stations, had to use radio-ships housing powerful transmitters to broadcast to their area of choice. These days, with an efficient aerial at a suitable land-based location, extreme high power isn't as necessary – although our allocated 4 Kilowatt ERP has challenged our engineers to get the best match between transmitter and aerial to squeeze every milliwatt of our power allocation up the aerial mast!
Our (second hand) Harris transmitter is housed at the former BBC World Service site at Orfordness, an irony not lost on us. You can read how we came to find this plum site on our The History of 648kHz page.
The site though is not open to the public, and being on an island isn't readily accessible to anybody, except those that work there fulltime.
---
648 Power Increase
The opportunity arose to boost our power on 648 AM. This was beyond the ability of the existing Nautel machine. High power AM transmitters are not easily sourced now. We found one in storage near the Dutch/German border and imported it to Essex so that it could be very extensively overhauled and converted. This was a long, costly and labour intensive task. Then the Harris DX25 was shipped to Orfordness and delivered by landing craft.
The staff of Cobra Mist, who could have left us to struggle, were particularly helpful. Our unsung heroes were Howard Beer, Alan Beech and Steve Bradley. Working conditions veered between not very nice to evil.
Now the new transmitter is in service covering, we hope, a much larger area than before to reconnect with more of our listeners from the past. Obviously we would like to know where our signal is going and indeed where it is not. Might you help us with a reception report so that we can see what we have achieved and to consider what we may do next.
Peter Moore – Station Manager
Please complete and submit the form
---
Friday 3rd December: Transmitter engineer Alan Beech reports
A big thank you from everyone here at Radio Caroline to all those who have sent in reception reports over the past week via our website and other means for our improved 648 AM service.
To say that we have been rather overwhelmed and inundated would be an understatement! With just a few exceptions all feedback is that we have a healthy increase in signal and audibility. That was the main aim of our power increase – to improve the signal in our primary coverage areas of Essex, Sufffolk, parts of Norfolk and Kent. We wished to overcome the increasing amount of interference caused by power lines and overhead telephone lines whilst on the move and the high number of household devices that cause interference within the home. Any perceived extension of our coverage area is incidental but obviously welcome.
We did receive numerous reports from far off locations saying our signal was still poor and could we increase it some more. Sadly not, as we are licenced by OFCOM to provide a community radio service in the aforementioned areas and that limits the power we can use. Any further increase in power would also significantly increase our electricity costs too as high power radio transmitters have a phenomenal appetite for electricity. We must always be aware of the vagaries of medium wave transmission and reception, and during these winter months the signal may well travel much further and give a fairly steady daytime signal in remote locations, but once the days start to lengthen again in the spring, that reception may well tail off. Night-time always gives extended range to our signal and it has been heartening to see reports from as far away as Portugal, Italy, Czech republic and Northern Finland. Of course, whilst our signal travels a long way at night other stations on the same frequency also travel further and often reception of Caroline in areas with a fair signal during daytime will have poor reception and much interference at night.
A fair number of reports mention our audio quality, and this is something we are aware of. We woud like to point out that options for reliable high speed connectivity at our transmission site are somewhat limited, and we are currently using a 64kb/s feed to site, which can tend to limit quality. However, many of the reports also suggest that our audio quality is excellent, so it is very much both a personal taste and a function of the radio you are listening on. Hopefully we can make adjustments to this to everyone's satisfaction in due course. For those with an interest in such matters we are using the same DSPx processor we installed in 2017 and the new transmitter is a Harris DX25U, previously located near Rotterdam and used on 828Khz. We are running an authorised radiated power of 4kw from the omni-directional "reserve" antenna at Orfordness.
For those who sent in comprehensive reports and requested a QSL card we will try our best to get acknowledgments issued as soon as we can. As always, please bear in mind that we are all volunteers and already give significant amounts of our free time to keep Caroline on air and there are a LOT of requests!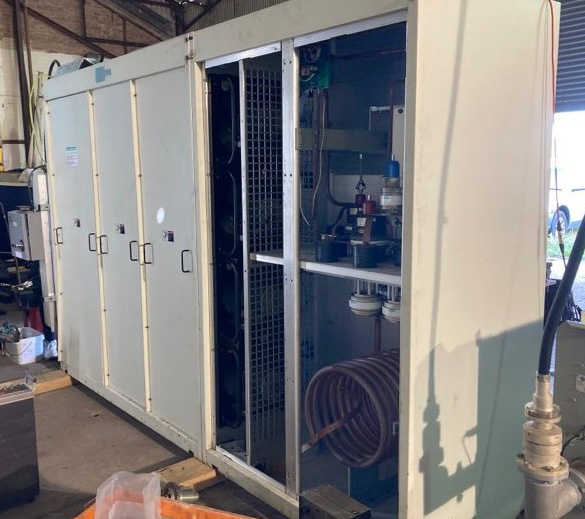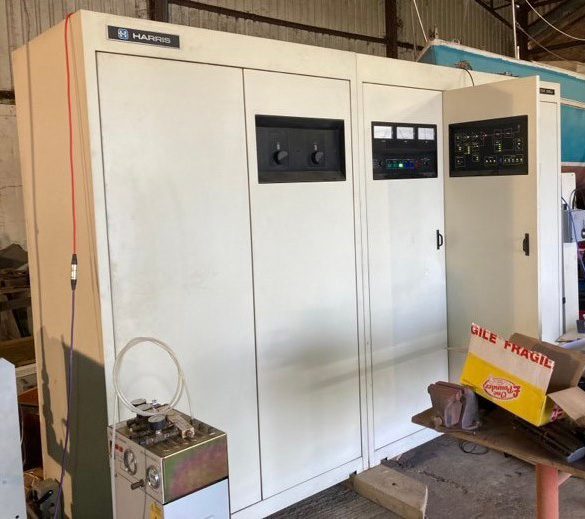 Harris DX 25U Transmitter
Two views of our new transmitter part way through its rebuild.
The Harris DX 25U is a 100% solid state unit with digital Amplitude Modulation.
Harris DX transmitters boast a typical efficiency of over 83%, resulting in the industry's lowest power cost. They also contain a lightning protection system and broadband interchangeable RF amplifier modules to simplify remote maintenance.
Pictures: Ray Clark
---
AM Licence Application
It was in 2010 that Bob Lawrence suggested to the regulator Ofcom that as radio stations in the UK now showed little interest in their AM services, no huge harm could be done by giving Caroline a frequency to use.
He was told that there was no procedure by which this could be done and that in any case there were no spare frequencies and no intention to licence any more commercial AM.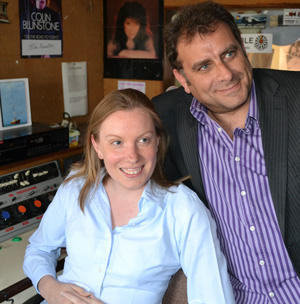 Tracey Crouch MP with Bob Lawrence
All the same, Bob mounted a lively campaign, greatly assisted by Tracey Crouch MP who had a father who had been a DJ and Caroline enthusiast and who tended to find partners who worked in broadcasting. Her Early Day Motion in Parliament produced much support, but of course we will never know if this caused a gradual change of attitude with Ofcom or not.
In any event, Ofcom then suggested that they may licence Community AM, but the date to invite applications slipped back year after year. But in 2016 expressions of interest were sought and Caroline applied for the Essex/Suffolk regions, these being the station's traditional heartlands.
In May 2017 our licence was granted. It seemed that within Ofcom, someone was looking kindly upon Radio Caroline as while it is usual for licences of this sort to award power levels of 20 to 70 watts, our licence came with permission for 1000 watts. Further the frequency of 648 kHz was suggested, previously used by the BBC for World Service broadcasts but silent since March 2011 due to financial cutbacks.
Peter Moore – November 2019
Background Image: Salvatore Vuono / FreeDigitalPhotos.net
Tracey Crouch & Bob Lawrence pic: Martin Fisher