Radio Caroline on 648 AM
Radio Caroline returned to the medium waveband on 648 kHz AM as a legal broadcaster at the end of 2017, after applying for, and being granted, the Ofcom licence for the Essex and Suffolk areas of South Eastern England. We were using a power of one kilowatt from a Nautel ND2.5 transmitter which was obtained through a supporter in Switzerland.
In July, 2021, Ofcom extended our licenced areas to parts of Kent and East Sussex, and increased our licenced ERP (Effective Radiated Power) to 4 Kilowatts. To implement this increase we acquired a Harris DX25 transmitter via a supporter in the Netherlands and spent much of the summer and autumn of 2021 rebuilding and retuning it to our frequency. This duly went into service at the end of November 2021.
You can hear us strongly in the above areas, with the signal dropping off gradually further afield. Those with good radios or specialist receivers can hear us at considerable distances from our transmitter, including The Netherlands, Belgium and Northern France, depending on local conditions and other factors.
Getting this far was a long process, as you can read in the sections below, but it has given the station a tremendous boost and helped prove that, despite the current pan-government trend of dropping AM in favour of DAB, there is still sufficient interest in old fashioned 'steam radio' – and indeed people with radio sets that can receive it. A lot of effort has been made "behind the scenes" by Caroline staff and many others in order to achieve this, and we thank them all for their diligent efforts.
Transmitter location
Our 648Khz transmitter is housed at the former BBC World Service site at Orfordness on the Suffolk coast, built and maintained at great expense by the government of the day, but long since mothballed and scheduled for demolition - an irony not lost on us. You can read how we came to find this plum site on our The History of 648kHz page.
The site though is not open to the public, and being on an island isn't readily accessible to anybody, except those that work there fulltime. We do not own the site and the site owners have made it clear they do not welcome people turning up to have a nose around, so please do not try to get there.
---
Report form
We welcome all reports of reception to our 648 service, and you can submit reports here. These reports are all read by our management and engineering teams, but not necessarily by our on-air team. Therefore, please do not use this form to contact the studio or presenters. We often receive upwards of 40 or 50 reports a week and several times this number on the occasions when we have announced engineering or antenna works in advance. As we are all volunteers it is therefore not possible to reply or acknowledge each one of these reports, but rest assured we do read them all. Your reports could be as simple as saying you stumbled on us when you dropped your shower radio into the tub, or that you have been an avid listeners since 1964. Whatever the report, we want to build up a picture of what reception is like in your location, what kind of radio you are listening on, etc., all of which will give us food for thought when thinking about future plans.
We frequently receive distant "DX" reports and these can make fascinating reading as we discover all the faraway places that our signal can reach and the techniques used to receive our transmission. Often these reports will request a "QSL" card in return which we will try and honour, but please bear in mind the amount of time it takes to verify and respond to each one. You may be able to send in an instant report, but it may take a while before we have the chance to reply. Generally we would discourage the request for QSL cards when the reception is an everyday or regular occurrence and ask you to save the card requests for "exceptional" reception. We would suggest that distances within 1000-1200km or so of Orfordness would be regarded as non-exceptional. If you are sending in a report, you may wish to add a short mp3 or even video clip of your reception via one of the public filesharing sites. This will almost always make it easier for us to verify reception instead of a list/log of noted songs and announcements.
Please complete and submit the form
---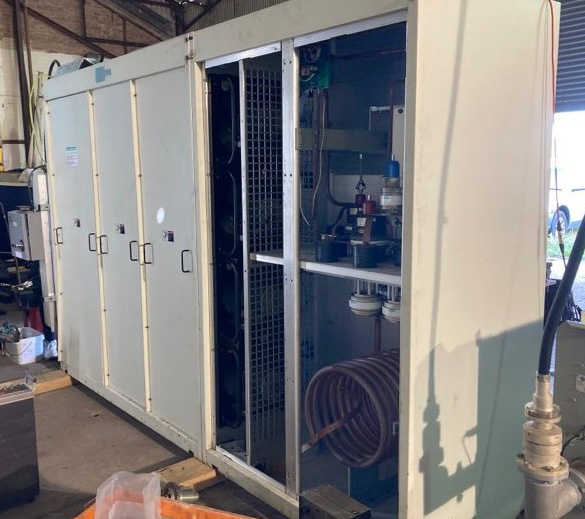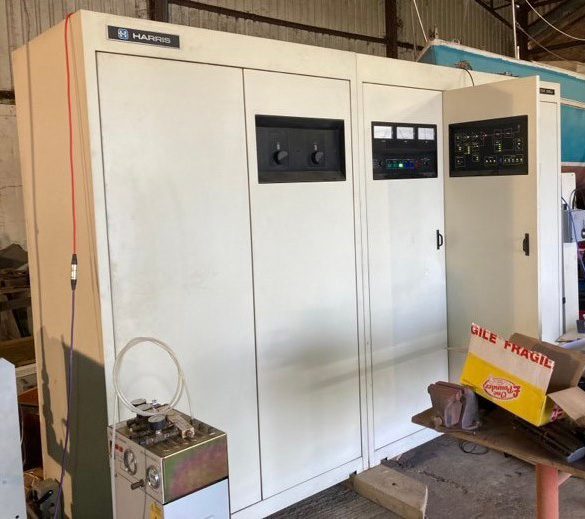 Harris DX 25U Transmitter
The Harris DX 25U is a 100% solid state unit with digital Amplitude Modulation.
Harris DX transmitters boast a typical efficiency of over 83%, resulting in the industry's lowest power cost. They also contain a lightning protection system and broadband interchangeable RF amplifier modules to simplify remote maintenance.
Pictures: Ray Clark
---
AM Licence Application
It was in 2010 that Bob Lawrence suggested to the regulator Ofcom that as radio stations in the UK now showed little interest in their AM services, no huge harm could be done by giving Caroline a frequency to use.
He was told that there was no procedure by which this could be done and that in any case there were no spare frequencies and no intention to licence any more commercial AM.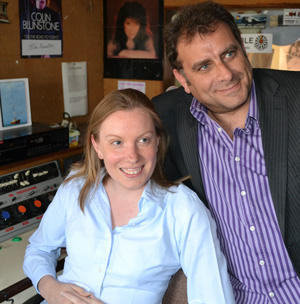 Tracey Crouch MP with Bob Lawrence
All the same, Bob mounted a lively campaign, greatly assisted by Tracey Crouch MP who had a father who had been a DJ and Caroline enthusiast and who tended to find partners who worked in broadcasting. Her Early Day Motion in Parliament produced much support, but of course we will never know if this caused a gradual change of attitude with Ofcom or not.
In any event, Ofcom then suggested that they may licence Community AM, but the date to invite applications slipped back year after year. Finally in 2016 expressions of interest were sought and Caroline applied for the Essex/Suffolk regions, these being the station's traditional heartlands.
In May 2017 our licence was granted. It seemed that within Ofcom, someone was looking kindly upon Radio Caroline as while it is usual for licences of this sort to award power levels of 20 to 70 watts, our licence came with permission for 1000 watts. Further the frequency of 648 kHz was allocated, previously used by the BBC for World Service broadcasts but silent since March 2011 due to financial cutbacks.
Peter Moore – November 2019
Background Image: Salvatore Vuono / FreeDigitalPhotos.net
Tracey Crouch & Bob Lawrence pic: Martin Fisher