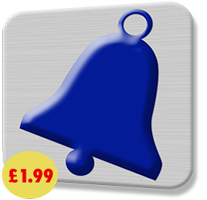 The Caroline App Version 2.0
Listen to Radio Caroline on your iPhone, iPad and iPod Touch. The latest version is designed for iOS 7 and offers multiple streams and an 'Auto restart' system to assist in areas of poor signal. This is particularly handy when on the move. The app has a built in 'live' programme schedule in-sync with our website to keep you up to date with any changes to our advertised programmes. You can also browse our presenter's profiles at your leisure and email them if you wish.
If you already have our app then upgrade for free today.
Requirements: Compatible with iPhone, iPad and iPod Touch. Requires 3G or Wi-Fi and iOS6 or later.
Plays multiple streams
Auto restart feature
Shows UK studio time worldwide
Current programme panel
Full programme schedule
'This Day' page
Presenter profiles
Send emails to presenters
Free upgrades and bug-fixes!
What streams does the player support?
Four mp3 streams and two AAC streams.
How is the clock synced to UK time?
It uses your device's internal clock adjusted according to Universal Co-ordinated time (UTC) plus daylight saving time.
But the app's clock is wrong!
Your device's clock needs to show the correct local time to sync properly.

The easiest way to listen and keep up with the legendary Radio Caroline. Works a treat!
I have just purchased the Caroline App for my iPhone. I have been listening to Caroline in my car on my way home from work and it is really great to have Caroline blasting out in the car in full stereo. As much as I would love to hear Caroline on AM again, I'm not sure if there much point now that there is the Caroline App. Brilliant!
This is by far the best radio station and app, well done. Well worth the money.
I've Just downloaded the new Caroline iPhone App and I'm well impressed. Using it to write this E-Mail from the scheduled presenters page. I've been listening regularly whilst in the car since I got my iPhone earlier this year but this App makes connecting so much easier. Very clever & no excuses now for missing programs.